Faldskærmsudspring hos Danmarks Professionelle Faldskærmscenter
Uanset om du er til tandemspring eller solospring, så er et faldskærmsudspring ved Dropzone Denmark en unik oplevelse, som du aldrig vil glemme. Vi er eksperter i alt fra tandemspring, hvor du overlader sikkerheden til vores erfarne faldskærmsinstruktører, til solo faldskærmskurser hvor du selv har kontrollen. Så giv dig selv eller din nærmeste en uforglemmelig gave og besøg vores faldskærmscenter. Tag gerne resten af familien og vennerne med. Du lander kun få meter fra tilskuerpladserne og vores lækre café har et stort udvalg af mad og drikkevarer.
Er du en erfaren faldskærmsspringer, tilbyder vi kvalificeret fritfaldscoaching i både formationsspring, tracking og freefly. Vi afholder også skærmflyvningskurser på Europas største swoop pond.
Our reviews speak for themselves
Why are we the best?
Dropzone Denmark is the only professionnel skydiving center in Denmark. Unlike the voluntair clubs our instructors and support staff are full time employed. That means more consistency, relaxed atmosphere and more safety for you!

Our procedures are based on many years work experience from all over the world. Countries such as England, USA, Australia and New Zealand. As Denmarks leading skydving center we are constantly in talks about safety and development with the danish authorities and EASA, the european affiliations.
Even though safety will always be our highest priority. The shared consensus among our 40+ employees is that skydiving has to be a fun, personal and memorable experience. As professionals we tailor the experience exactly to your needs. We know how to make it fun because we know exactly what we are doing.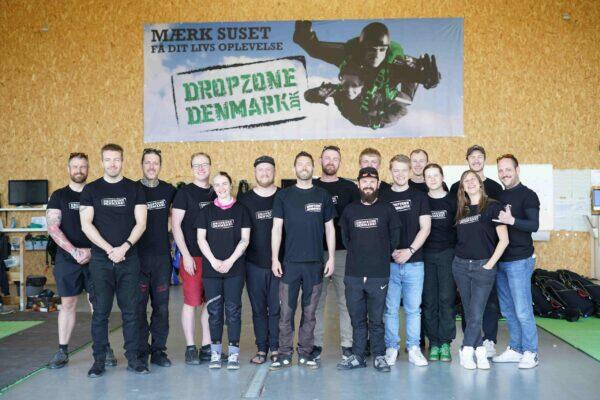 Er faldskærmsudspring farligt?
Hvis du er én af de mange mennesker, der er bange for, at faldskærmen ikke folder sig ud, så har vi godt nyt til dig. Vi har det bedste udstyr på markedet og stor erfaring med at bruge det. Derfor er du garenteret den bedste sikkerhed, når du springer hos os.
En moderne faldskærm er opbygget af flere lag af backup systemer. Skulle der imod forventning være noget galt med hovedfaldskærmen, så er der altid en reservefaldskærm. Hvis springeren ikke udløser faldskærmen selv, så er der en elektronisk sikkerhedsudløser. Det farligste ved et faldskærmsspring er køreturen frem og tilbage.
Hvem kan springe i faldskærm
Vores vision er at tilbyde faldskærmsudspring til så mange som muligt. Det er lige meget, om du er ung eller gammel, kvinde eller mand, modig eller bange. Hvis du kan passe seletøjet, så er vi godt på vej. Vi har god erfaring med at springe med alle typer mennesker lige fra 5-99 år. Også svært handicappede.
Ved et solospring skal du være fyldt 16 år og i almindelig fysisk stand. Har du noget helbredsmæssigt, så kan du altid tage en snak med os, om hvad der kan lade sig gøre.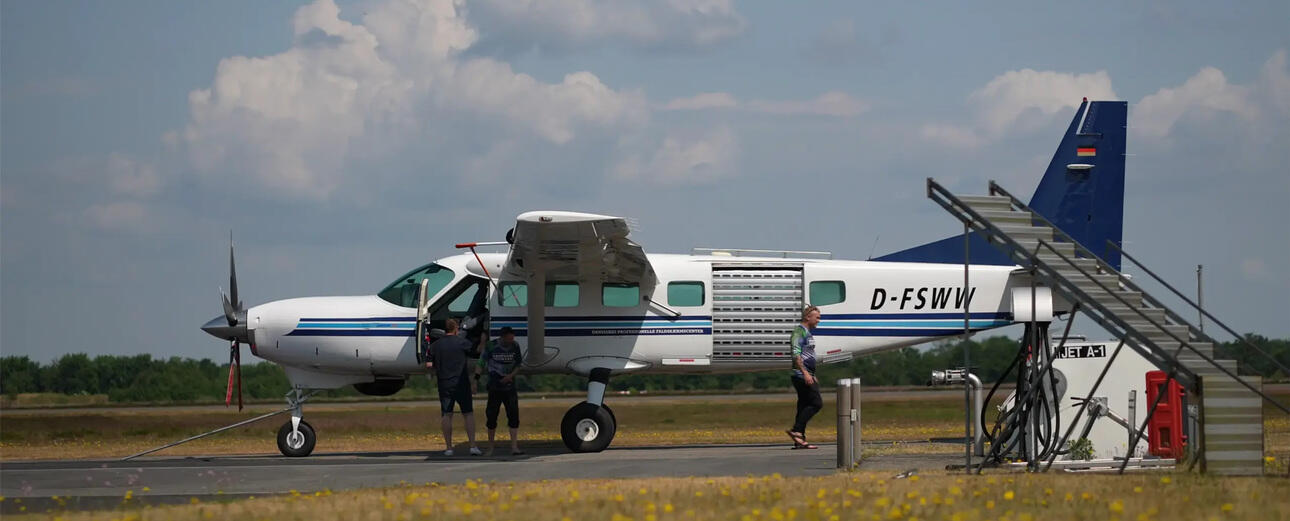 As the countries largest skydiving center we offer the best service and guarantee the highest degree of safety. Whether you jump tandem or solo you will enjoy an amazing experience of a lifetime with one of our very experienced instructors.
Our plane is the largest and fastest skydiving plane in Denmark. With room for 20 skydivers that take you to 4.500 meter / 15.000 feet in only 15 minutes.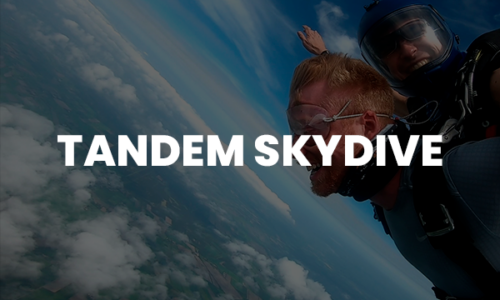 A tandem skydive is for you that wish to have an experience of a lifetime, while still being able to enjoy every moment. We will take care of everything.
We have broad experience with any age, size and shape. Our youngest skydiver have been just 5 years old while our oldest have been 99 years old.
We also have some of the best instructors in the world with the option to give people with physical disabilities a skydive. As the only place in Denmark, we have a harness specifically design and manufactured for Dropzone Denmark.
As a tandem skydiver you have the option to jump from 2.000, 4.500 or 6.000 meter. On your way up to 6.000 meter you will be supplied with oxygen and enjoy 90 seconds of freefall on your way down. Is the longest regularly offered skydive in all of europe!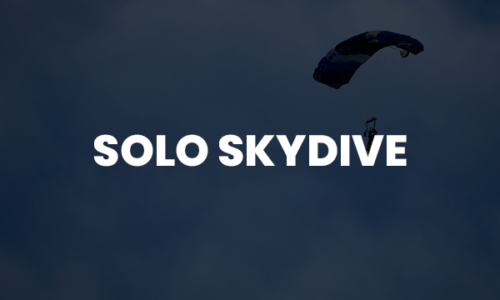 A solo skydive is for you that can keep you head level during the wildest experience of a your life. Afterwards you will always be able say "I did it".

You can jump solo on your very first jump. You don't have to have tried a tandem skydive first.

After 6 hours of classroom theory you are ready for your first skydive from 4.500 meter, where you, after freefalling for 45 seconds independently deploy the parachute. We strive to make real skydivers and not one-time thrill seekers, therefor we advice to start on our silver or gold course to kick start your skydiving career.

When you make it to only 25 jumps you get a world renowned USPA A-license. As part of the largest skydiving operation in the world.

Read more about our solo jumps and SIGN UP here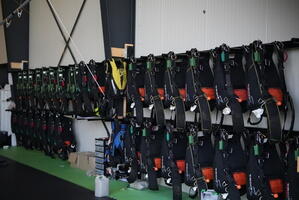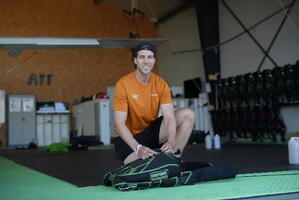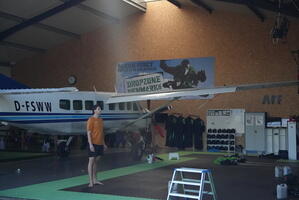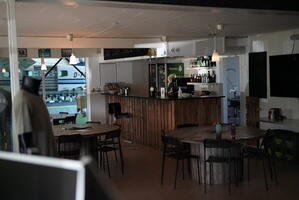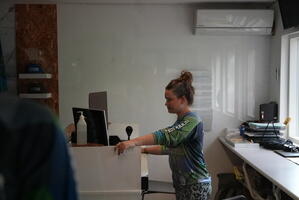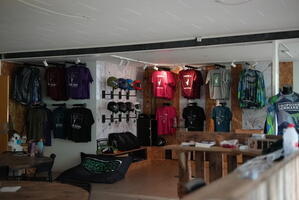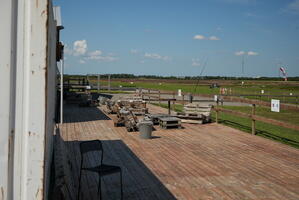 Dropzone Denmark is not just a skydiving center it is a community for both skydivers and friends of the Dropzone. In the center of it all is our café where we offer breakfast, lunch and dinner. Stay and enjoy a beer on the decking from our large selection - all while looking at the skydivers that both gracefully and impressively land before you in the sunset.